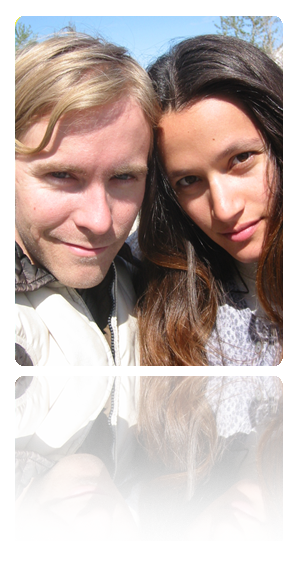 In a small hot glass studio in Western Montana in 2001, the paths of Julia (Boriss) and Robin Rogers intersected and eventually merged. At this shop, called Cloud Cap Glass, their friendship grew and their glass practices began to overlap. They both became part owners of the studio and worked together, operating the small business and creating glass works.
In pursuit of Master of Fine Art degrees, the couple decided to leave their beloved Montana in 2005. They re-envisioned their glass studio and created a trailer-mounted portable shop. With their tools, dogs and one year old son packed up, they set out for Southern Illinois. Following professional opportunities, the glassy family has lived in Carbondale, Illinois; Bowling Green, Ohio; Detroit, Michigan; and Norfolk, Virginia.
In 2010, after nearly ten years of working together and assisting with each other's work, the duo decided to start creating artwork collaboratively. In these bodies of work, every step of the process, from conception to installing, is completed by both artists. This method of working has led to the creation of artwork that Julia and Robin are excited to make and proud to exhibit. Through the synergy of this collaboration, the whole is much greater than the sum of the parts.
"We are enlivened by the inherent qualities of molten glass; its luminosity, viscosity, and seductive flow.  Our interdisciplinary approach incorporates blown and sculpted glass with other materials such as metal, wood, and fur. Collaboratively, we meld our ideas into sculpture, installation and performance. As two artists living, breathing, and working together, our minds never stop imagining the possibilities of what can be explored, discovered, shared, and created."